Introduction
"I don't get it."

"I'm bored!"

"I don't have anything to write about."

"Do I have to keep writing?"
I'm sure we have all heard these famous lines before. Getting children excited about reading and writing can be a challenge. Not all children come to school with a love of books. As teachers, it is our job to develop, instill and nurture their young minds. Today we are competing with video games, computers, smartphones and mp3 players for the students' attention. This makes teaching and sustaining students' attention all the more difficult. One way to keep the students on their toes is to use poetry. Poetry is a great way for students of all ages to become excited about reading and writing in a whole new way. Poetry is short, full of vocabulary words, expressive, full of emotions and provides entertainment. In this unit, students will play with poems to help them become better readers and writers.
Currently I am teaching 24 third graders at King/Robinson International Baccalaureate (IB) Magnet School in New Haven, Connecticut. Our school serves Pre K-8th graders. We are a Title 1 school. Students are selected out of a lottery to attend our school from the surrounding towns. As part of the IB World schools, we are accredited in the Primary Years Program and Middle Years Program (PYP and MYP). IB schools are a non-profit organization that was founded in 1968 in Geneva, Switzerland. It was originally developed for elite families and ambassadors who traveled from country to country. The intent of the program was for mobile students, preparing to attend a university, to receive a common curriculum, which encourages students to be life long learners and inquires. Our school uses the IB philosophy and the Connecticut State Standards (we are in the process of adapting the Common Core Standards) to develop inquiry-based units and lessons for our students.
There are 16 boys and 8 girls in my class. We use the Degrees of Reading Assessment (DRA) to assess the students reading levels. 20% of my students entered third grade reading at a proficient or higher level. Therefore 80% of my class is reading at a basic level. The DRA assesses the students' ability to read words accurately, predict, retell/summarize, recall literal comprehension, as well as reflect and interpret. Reading is an important focus in third grade because the students begin taking the Connecticut Mastery Tests, a state standardized test that assesses reading, writing and math. The students who are not reading on grade level have a difficult time taking and passing these assessments.
Oral language is another area that the students fall below proficiency in third grade. One of the programs in our curriculum is MONDO. We use an oral language assessment to assess the students' ability to retain language and recite it back. Students who do not pass these assessments are most likely practicing the art of communication on a daily basis. During oral language instruction, students look at a picture and discuss what they notice. Teachers encourage the students to build their vocabulary, sentence structure and communication skills amongst each other. The more practice the students have to develop their language skills the better they will become. Poetry can help the students gain confidence in speaking and developing their tone while playing with words and sentence structure.
Third graders are expected to complete narrative expositions, which includes an entertaining beginning, an elaborative setting, at least three main events and a conclusion. Throughout the story the students are to include thought shots (feelings or thoughts that the character exhibits) and snapshots (using descriptive words through the five senses to show the readers what the character is experiencing rather than telling). At the beginning of the year they are given writing prompts that assesses their baseline. Their stories are scored on 1 to 6 point scale. The higher the number the more developed, elaborated and fluent the story is. At the beginning of the year approximately 67% of the students scored at a basic level. By the end of the year there were 20% of the students scoring basic and 33% of the students scoring proficient. These are the students that are lacking in their ideas, voice and word choice. Their elaboration is weak with minimal details. They struggle to include thought shots and snapshots and typically run out of ideas and motivation to continue writing. Students give up quickly and refuse to revisit the work. Writing is an art form that needs to be inspired. It is hard to make a child write when they do not have a lot of background knowledge or experience to write about. This makes even brainstorming activities painful. When the students start to play with words and the sounds that words make they can then see writing as a fun, expressive form rather than just another assignment that has to be done. In this unit you will find ways to motivate students to write poems by playing with words. These activities can easily be carried into their narrative expositions.
---
Let's Act it Out!
Once the students have had a chance to explore expression through voice, tone and art, they can now have an opportunity to have some fun in creating skits. Giggle poetry is the best form of poetry to use with this activity. As an example we will use the poem Under the Bed1 by Penny Tryzynka. The student will choose a poem of their choice and work in small groups. Together they will create mini skit to for the poem. Students will need to include voice, tone and expression in order to convey the meaning of the poem. This may take them a few days to work on. Once they have had time to create their skit and rehearse it allow the students to perform it in front of the class. If there are some students who are typically shyer than others, provide them with the option of creating puppets and performing a puppet show. You are looking for the students to demonstrate their understanding of voice and tone. They will need to include details from the poems as well.
In Under My Bed, the child is scared of the monster that may be lurking underneath the bed. His long, white teeth create an image that helps the reader feel what the character is feeling. The students can and should be as creative as they want to be for this activity. Encourage them to give the characters a voice. You can use the example below as a model for the class.
Child: (talking to himself) I'm so scared! I think there is something under my bed, but I'm not sure. It's only 7:30 at night.
Monster: Slurp, slurp, slurp.. I'm so hungry, but it's too dark out there to get something to eat.
Child: He-l-l-o-o, is so-mma-one there?
Monster: (talking to himself) ohh no! It's a monster! What should I do? I wish that little boy were here. He has that nice soft teddy bear.
Child: (talking to himself) maybe if I lie really still and close my eyes, they won't see me…
Monster: creeps out slowly…I hope he's there…(tap, tap, tap)
Child: (opens one eye slowly)
Monster: Can I sleep with you? I'm scared.
---
Art Can Inspire Us All!
The World Is Not A Pleasant Place To Be3, by Nikki Giovanni is a great poem to use with our next lesson. After the children have had a chance to express themselves using voice, they will now have the opportunity to express themselves with art. Depending on the poem, each child will take a part of the poem or the entire poem. They will read their poem and think about the message and what it means to them. Some students may have trouble at first understanding what this means so you can ask them some questions to help spark their ideas. For example, if we use the first three lines of Nikki Giovanni's poem, we could ask the following questions. Who would you want to be held by if you were scared? How would this person make the world a pleasant place? How would this world be unpleasant if they were not there for you? How do you feel when this person is with you?
The students will use paints, crayons, markers or colored pencils to create a picture. As the students work they will tap into their imagination and become inspired to add more details. Once their picture is completed, they will use their five senses to describe the story from within the picture. The students will use the graphic organizer below to help them develop their ideas with each sense. If the students write one word answer, encourage them to tell you more. Have them read the poem again and think about what they were thinking or feeling as they were reading it.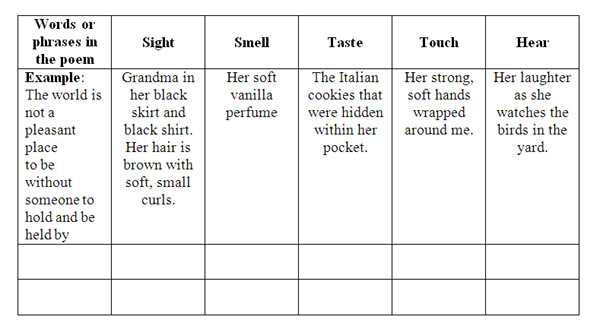 Once the graphic organizer has been completed, let the students turn each sense into a detailed sentence that paints a picture. Then have them compile their sentences into a poem. Encourage the students to use words that will help them paint a picture for their readers. You may want to help students by supplying a list of descriptive words so that they are not stuck using the same words over and over again.
Poem Example:
There was Grandma on the porch
Sitting under the bedroom window
Her wool black skirt and ribbed sweater was soft upon her skin
Small brown curls mopped her head
The Aqua Net kept them in place.
Story Example:
I spotted Grandma on the concrete porch sitting under the bedroom window. She was wearing her black wool skirt and her black, ribbed sweater. Her soft, brown hair had just been curled. It stood perfectly still from the Aqua Net hairspray that she always used.
---
Appendix
Grade 3 Common Core Standards
SL.3.5.
· Create engaging audio recordings of stories or poems that demonstrate fluid reading at an understandable pace; add visual displays when appropriate to emphasize or enhance certain facts or details.
RL.3.10.
· By the end of the year, read and comprehend literature, including stories, dramas, and poetry, at the high end of the grades 2–3 text complexity band independently and proficiently.
RF.3.4.
· Read with sufficient accuracy and fluency to support comprehension.
· Read grade-level text with purpose and understanding.
· Read grade-level prose and poetry orally with accuracy, appropriate rate, and expression.
· Use context to confirm or self-correct word recognition and understanding, rereading as necessary.
Expression Cards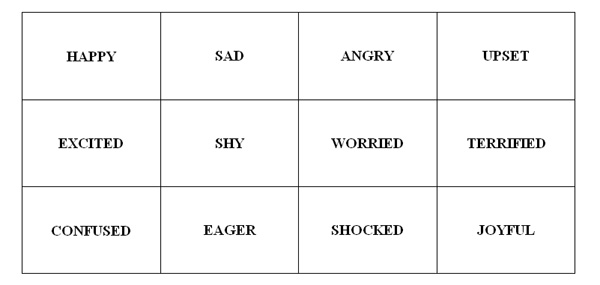 Writing Rubric – New Haven, Connecticut
Grades 3-4: Rubric
Score Point 1: An undeveloped response
Typical elements:
Contains few or vague details
Is too brief to indicate sequencing of events
May be difficult to read and understand
Score Point 2: An underdeveloped narrative
Typical elements:
Contains general, unelaborated and/or list-like details
Shows little evidence of sequencing of events
May be awkward and confusing
Score Point 3: A minimally-developed narrative with little expansion of key events and characters
Typical elements:
Has little elaboration with more general than specific details
Shows some evidence of an organizational strategy with some sequencing of events
May be awkward in parts
Score Point 4: A somewhat-developed narrative with moderate expansion of key events and characters
Typical elements:
Is adequately elaborated with a mix of general and specific details
Shows a satisfactory organizational strategy with satisfactory sequencing of events
May be somewhat fluent
Score Point 5: A developed narrative with mostly effective expansion of key events and characters
Typical elements:
Is moderately well elaborated with mostly specific details
Shows generally strong organizational strategy and sequencing of events
May be moderately fluent
Score Point 6: A well-developed narrative expanding on key events and characters
Typical elements:
Is fully elaborated with specific details
Shows strong organizational strategy and sequencing of events
Is fluent
---
Bibliography
&, the third day the children usually will have become fluent reading the. "TEACHERS' MENTOR - using poetry to teach reading." The Best of TEACHERS' MENTOR - assistance for teachers PreK - 5. http://teachersmentor.com/readingk3/using_poetry.html (accessed July 4, 2011.
A website on how to use poetry in the classroom.
(2005), Mary Haga. "Reading Rockets: Using Poetry to Teach Reading." Reading Rockets: Reading Comprehension & Language Arts TeachingStrategies for Kids. http://www.readingrockets.org/article/35 (accessed July 4, 2011).
A very useful website for both teachers and parents who want to improve students reading levels.
Attenborough, Elizabeth. Poetry by heart: a child's book of poems to remember. New York: Scholastic Inc. :, 2001.
A collection of poems for children.
Carpenter, Stephen, and Bruce Lansky. A bad case of the giggles: kids pick the funniest poems.. Minnetonka, MN: Meadowbrook Press ;, 2008.
A collection of funny poems for students of all ages.
"Descriptive words." Ms. Garrett online-home page. http://www.msgarrettonline.com/descripwords.html (accessed July 4, 2011).
An article of descriptive words.
Janeczko, Paul B., and Christopher Raschka. A foot in the mouth: poems to speak, sing, and shout. Somerville, Mass.: Candlewick Press, 2009.
A collection of rhymes to teach voice and tone.
Kennedy, X. J., Dorothy M. Kennedy, and Karen Baker. Knock at a star: a child's introduction to poetry. Boston: Little, Brown, 1999.
A collection of poems, songs and prose for students who are new to poetry.
Koch, Kenneth. Rose, Where Did You Get That Red? New York: Random House, 1973.
A book written by Koch's own experience in teaching children how to write poetry. He provides ideas for children of all ages.
Polonsky, Marc. "Why Poetry." Marc Wordsmith.
www.marcwordsmith.com/pdfs/Why-Poetry.pdf (accessed July 4, 2011).
A pdf file on why poetry should be used and read.
Prelutsky, Jack, and Marc Tolon Brown. Read-aloud rhymes for the very young . New York: A. Knopf, 1986.
A collection of rhymes for all ages.
Prelutsky, Jack, and Christopher Raschka. Good sports: rhymes about running, jumping, throwing, and more. New York: Alfred A. Knopf, 2007.
A poem, written as a story for students who love sports.
Rochelle, Belinda. Words with wings: a treasury of African-American poetry and art. New York: HarperCollins/Amistad, 2001.
A collection of African American poems for all ages.
Schoonmaker, Frances, and Lucy Corvino. Poetry for young people: Robert Louis Stevenson.. New York: Sterling, 2007.
A collection of Robert Louis Stevenson's poems.
"ShelSilverstein.com - the Official Site for Kids - Choose Speed." ShelSilverstein.com - The Official Site for Kids. http://www.shelsilverstein.com/indexSite.html (accessed July 4, 2011).
An interactive site for teachers and students about Shel Silverstein.
"Spoonerisms." Fun With Words > The Wordplay Web Site. http://www.fun-with-words.com/spoonerisms.html (accessed July 27, 2011).
A website that teaches about the art of spoonerisms.
Trzynka, Penny. "poem." Funny poetry for children.
http://www.gigglepoetry.com/poem.aspx?PoemID=401&CategoryID=18
(accessed July 4, 2011)
A poem that is about a child who is afraid of the monster under his/her bed.
Vardell, Sylvia. Poetry for Children: Poems, Comfort, and Nikki Giovanni."
Poetry for Children.
http://poetryforchildren.blogspot.com/2007/04/poems-comfort-and-nikki-giovanni.html (accessed July 4, 2011)
A blog created to share poetry with young children about topics and issues.
Whitehead, Jenny. Holiday stew : a kid's portion of holiday and seasonal poems . New York: Henry Holt, 2007.
Poems for the holidays and seasons.
Wolf, Allan . Immersed in Verse An Informative, Slightly Irreverent & Totally Tremendous Guide to Living the Poet's Life.. New York: Lark Books, 2009.
A guide to helping students and teachers become comfortable with poetry.
---