The Muscular System
Overview
There are over 600 muscles in the human body; each is made of small fibers that come together to form a person's shape and definition. Typically, the muscular system itself represents about 40 percent of an adult's weight10. That figure can be 5-10 percent less for children or higher in Olympic and professional athletes. Muscles are attached to the human skeleton by thick chord-like tendons. Muscles contract to perform movements. All movements involve a contraction of one or several muscles. When muscle tissue contracts it shortens, allowing a variety of motion11. Running, jumping, brushing your teeth, and even smiling involve the contraction of muscle tissue. Thus, muscles contractions throughout the body are responsible for walking, running, and lifting objects. Muscles in the face are responsible for facial expressions and eye movements. Increasing muscular fitness helps with joint stability, posture, and bone density. Strong, flexible muscles allow people to perform more complex movements and physical tasks without increasing their risk of injury. Students might also find it interesting that muscular contraction uses energy to create heat.
Types of Muscle
There are three types of muscles in the human body: skeletal, smooth, and cardiac. Each type of muscle is formed by protein synthesis. The fibers that make up muscles are developed through forced contraction. Protein helps restore muscle mass and strength. Skeletal muscle attaches to the bone and exist throughout the entire body. Smooth muscle is found in the walls of the digestive tract and blood vessels. It is not under voluntary control. Cardiac muscles can only be found in the walls of the heart.
Muscle Terminology & Size
While most muscular names and terminology originate from Latin or Greek roots, many muscle names are based in mathematical roots that describe their structure, function, or size12. The names maximus and longus refer to a large or long muscle respectively. Conversely, a muscle with either minor or brevis in its name describes a muscle that is small or short. The deltoid, or outside shoulder muscle, is shaped like a triangle. The trapezius, upper shoulder muscle, is cleverly shaped like a trapezoid.
Location & Origin
With teacher assistance, students should be able to dissect long names in the muscular system to determine their location. Names such as intercostal should be broken into their prefix and root. For example, inter means across and costal means ribs13. Therefore, the intercostals muscles run between the bones of the rib cage. The word ceps means head. A prefix added on to ceps can also inform a person of the number of origins or heads that muscle has. For instance, the biceps and triceps of the upper arm have two and three origins respectively14. Meanwhile, the quadriceps femoris has four origins. The word femoris tells us that the quadricep muscles are related to the femur of the skeletal system. Thus, the ability to memorize skeletal structures and their given names will greatly help students to explore and breakdown complex terminology in the muscular system.
Direction of Fibers
Muscle fibers stretch in different directions to help us navigate our world. Different muscles are responsible for bending, twisting, lifting, pushing, or pulling. Each muscle in the body has one primary function and one or two secondary functions. The study of muscle direction is relative to the midline of the body15. Students may have a good grasp of what it means to be parallel or they may need to relate this concept to a horizontal plane. Having students move around and perform small exercises to test directional movements is an appropriate teaching method. Transverse muscle fibers in the body are perpendicular to the midline. The transverses abdominis in the abdomen is an example of a muscle that contracts at a right angle to the midline of the body. The obliques, side muscles in the stomach, do not move in a straight line perpendicular to the midline. Instead, the obliques contract diagonally in comparison to the body's midline. The rectus abdominus, known to many students as the "six pack" muscle, runs parallel to the midline.
Skeletal Muscle
Skeletal muscle is the longest type of muscle in the human body. Students will be familiar with these as the primary muscles in their body. Skeletal muscle is responsible for voluntary motion. We consciously decide to move our arm to lift an object. We knowingly move in a specific direction. Students need to learn that skeletal muscle fibers are strong, but have very little endurance. Skeletal muscle can be trained to become more powerful and gain greater endurance. Running, cross training, and weight lifting are the most common ways of creating stronger skeletal muscle. A cross-section of skeletal muscle will show students that muscle fibers do not simply rest side by side. Skeletal muscle is an intricate bundle of fascicles and connective tissue called perimysium16. A sheath, the epimysium, wraps and protects the bundle of fibers and connective tissue to complete the muscle composition. Tears or strains in skeletal muscle can be painful and may require treatment with ice and rest to heal.
Skeletal muscle fibers that contract quickly tend to fatigue quickly. Higher contraction speed is associated with less endurance. More endurance is associated with slower twitch. While the average adult has 50-60% fast twitch muscle fibers, the body of professional sprinters may contain higher than 80% fast contracting fibers17. Although people are born with specific distributions of fast and slow twitch muscles, exercise can increase their resistance to fatigue.
---
The Cardiovascular System
Overview
The cardiovascular system consists of arteries, veins, capillaries, and lymph vessels. These internal body parts send oxygen, blood, and other nutrients throughout the body cells, muscles, tissues, and organs. In other words, the cardiovascular system is responsible for blood flow throughout the human body, thus earning its nickname as the circulatory system. It allows all of the other systems in the human body to work together. In addition to sending nourishment to the proper areas of the body, the cardiovascular system aids the digestive system in waste removal.
Blood Vessels
Arteries, veins, and capillaries are the three main types of blood vessels in the human body. Arteries take blood away from the heart and push it out to the rest of the body, veins bring blood back to the heart, and capillaries connect arteries and veins.
The human body is full of trillions of tiny cells that float around in tissue fluid18. Cells stay alive and healthy by taking oxygen and nutrients from the tissue fluid. Blood vessels act as guides creating pathways for blood to flow from the heart to the rest of the body. Blood must travel smoothly everywhere from our hair to our toenails and from the cornea of our eyes to the enamel in each of our teeth19. In this way, the cardiovascular system is responsible for replenishing tissue fluid throughout the body with new nutrients and fresh oxygen. If waste and toxins are not removed from cells on a regular basis, then the cells become poisoned and die. It is the role of white blood cells to find and kill bacteria and viruses before they infect the body20. White blood cells are one of the most important players in the circulatory system because they prevent bodily infections that have the potential to become life-threatening diseases.
The Heart
The human heart is the central organ in the cardiovascular system. The heart is split into two sides. The right side of the heart pumps all blood that lacks oxygen to the lungs where blood cells receive new oxygen to carries throughout the body. Then the left side of the heart pushes the new oxygen in the direction of vital organs. When the organs have consumed most of the oxygen, veins coming from each organ carry the blood to the superior and inferior vena cavae. The superior and inferior vena cavae return the blood into the right side of the heart where it travels to the lungs once again21.
Cardio-acceleratory Center
The cardio-acceleratory center, located in the brain, speeds up heart rate during exercise or stressful moments. It is necessary for the heart to circulate oxygen at a faster rate during exercise and stress because muscles need oxygen faster in order to perform at their peek. The cardio-acceleratory center works through the sympathetic nervous system.
Cardio-inhibitory Center
When a person is at rest, the cardio-inhibitory center, also located in the brain, works with the parasympathetic nervous system to slow the number of heartbeats per minute.
Instability Within the Cardiovascular System
If the cardiovascular system fails, serious problems can occur. A heart attack involves a shortage of oxygen supply to the heart. This often happens when the coronary arteries becomes partially blocked. A mix of fat and cholesterol is the most common form of plaque build up to block the arteries and stop blood flow to part of the heart muscle. In addition, fat buildup that blocks the cerebral arteries can also affect blood flow to the brain. If there is a shortage of blood flow to the brain, there is a very sudden change in brain activity. This is called a stroke. Symptoms of a stroke include: sudden paralysis to one side of the body, loss of sensation, loss of speech, vision impairment, confusion, or disorientation. A stroke is a very serious medical emergency. Anyone who seems to be having a stroke must be taken to the hospital.
Common Causes of Cardiovascular Diseases
Poor eating habits are a factor in developing a cardiovascular disease. Eating too much fatty food increases a person's chance of building up plaque that can block blood flow to coronary arteries. Lack of exercise is another major lifestyle choice that affects the cardiovascular system. A lack of sufficient exercise can weaken the heart. It can be strengthened just like skeletal muscles.
Type-1 Diabetes
Loss of insulin secreting cells in the pancreas causes Type-1 diabetes. This is referred to as juvenile onset because it strikes children.
Type-2 Diabetes
Type-2 diabetes is caused by a loss of insulin receptors and some insulin secreting cells. This form of diabetes is called adult onset. Too much sugar in the diet leads to too much blood glucose. High, unregulated blood glucose is the biggest risk factor for Type 2 Diabetes.
---
The American Diet
In 1970, the U.S. food system calculated that the average American consumed 2,168 calories per day. The breakdown of calorie intake by category was: 402 from added sugar, 410 from added fat. Thus, 812 calories or 37 percent of the American diet came from additives, unhealthy calories.
In 2008, the U.S. food system reported that Americans were now consuming and average of 2,673 calories per person per day. This powerful evidence that the cheap-food policy instituted by Nixon-era USDA chief Earl Butz was a huge success from the standpoint of policy makers. However, the nation now faces a vast healthcare crisis. The intense production of corn, soy, and processed goods made food more affordable, but Americans are paying the price for eating what is cheap and affordable. Over the past 40 years, calorie intake has increased by more than 23 percent. Americans are eating more and not exercising enough to burn off the extra calories. The 2008 average calorie consumption for added sugar and added fats climbed to 459 and 641 calorie respectively. Thus, 1,100 calories or more than 41 percent of the average American diet contained sugars and fat.
From 1970 to 2008, healthy protein consumption (meat, eggs, and nuts) only increased 4 percent. In 1970, the average American ate 463 calories of protein. The 2008 food system data reported that the American diet now contained roughly 482 calories of protein.
Students can use this full interactive chart to compare the diets of Americans in 1970 to 2008. They interactive chart changes numbers every two years. Students can use this data to make a line graph with two-year intervals on the x-axis.
http://civileats.com/2011/04/05/where-do-americans-get-their-calories-infographic/
Caloric Intake By the Numbers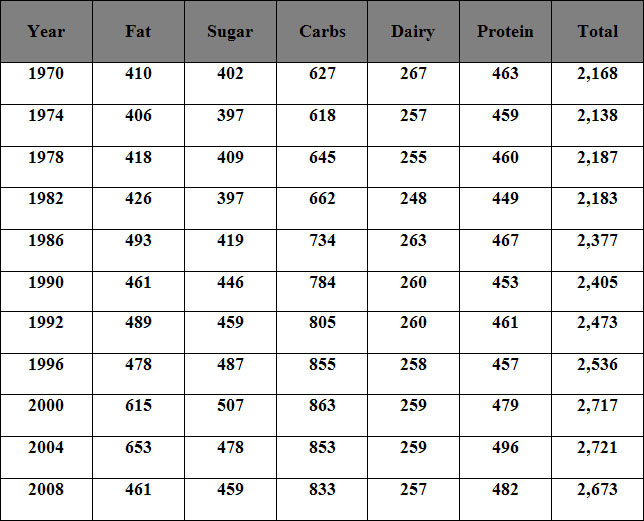 Students should be able to create, read, and interpret a chart of caloric intake using the
data from civileats.com. Discussion of the data should lead students to notice the following trends:
§ The large increase in total daily calories consumed by the average American from 1982 to 1986

§ Total daily caloric intake peaked in 2004
Caloric Intake By Percentages (Rounded to the nearest percent)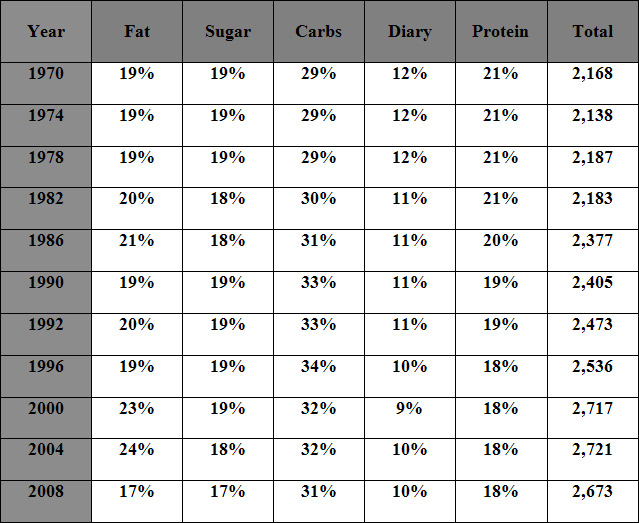 Students should be able to calculate the percentage of total daily intake for each food category (see below). Students can then analyze trends and point out the year of minimum and maximum percentages for each category. Overall, students should be aware that fat and carbohydrate intake increased from 1970 to 2004 while protein intake decreased. The year 2008 marks the beginning of a national awareness to the issue of obesity and proper nutrition in the country. Thus yielding a 7% decrease in the percentage of fat in the daily diet. Looking at eating habits next to trends in exercise will give a more accurate picture of a person's overall health.
Below is an extension activity for students who have already mastered the ability to chart data and calculate percentages. The online website (Civil Eats) allows students to breakdown carbohydrate intake into three separate categories: grains, vegetables, and fruit. Students can fill in a blank chart and calculate the percentage of calorie intake relative to each category.

---
Importance of Nutrition
Nutritionists throughout the United States recommend children eat 2 ½ cups to 6 ½ cups of fruits and vegetables a day, 2-3 ounces of whole grains, and 1,500-2,300 mg of sodium each day. Currently, children eat less than recommended amount of fruits, vegetables, and whole grains. At the same time, they eat more than 2,300 mg of sodium24. Calories from added sugars often come from soda, fruit drinks, dairy desserts, pizza, and whole milk. Yes, french fries come from baked potatoe, but it is the combination of fat carbohydrates, and chemicals put in processed foods that "pollute" our diets25.
Cholesterol & Fat
Cholesterol is a tricky subject. Fun fact: about 25% of the cholesterol in the human body comes from meat and eggs26. The liver makes cholesterol from carbohydrates, proteins, and fats. We need cholesterol to support the cells in our body and digest fats. However, too much cholesterol can block arteries and prevent blood from flowing to the heart and brain27. Therefore, high blood cholesterol is one of the biggest risk factors for long-term health problems, especially heart disease.
Water
Water is made of two hydrogen molecules and one oxygen molecule. Water is the most important part of human diet. Water helps carry nutrients and oxygen to your cells. It helps convert food to energy, cushions and protects vital organs in the human body, and helps the intestines digest and absorb nutrients into the body. Water is also involved in removing waste from the body. It regulates body temperature and helps our muscles maintain strength and grow in size. Not only does water compose 75% of the human brain, but it also makes up roughly 80% of blood in the body and more than 20% of bones. Without sufficient hydration, our body does not perform at peak physical or mental capacity. Both children and adults need water to live a healthy lifestyle.
Food and the Brain
We can compare food to gasoline. Food is to human beings as gasoline is to automobiles. "Just as premium gasoline make for a smoother-running car, brain-friendly foods can make for a smoother mood," says Oregon-based dietitian Elizabeth Somer28. For example, tomatoes and other foods that contain lots of cartenoids may prevent depression and slow memory loss and dementia in older adults29. The National Institute on Aging recommends one serving (about a cup) of fresh tomatoes or natural tomato juice a day to see the full nutritional benefits of its cartenoids30.
Whole grains and other carbohydrates promote the sustained release of insulin, rather than a sudden spike31. Insulin is the hormone in the human body that stimulates the production of serotonin. Whole grains are preferred to processed starches because they carry less simple sugars. Whole-grain graham crackers or two cups of air-popped popcorn are highly recommended foods that have the ability to enhance a person's mood32. Dark chocolate, or any chocolate that contains at least 60 percent cocoa, has also been linked to increased serotonin levels and mental alertness33.
Calories
A calorie is the unit of energy used to measure how much substance food has. Think about a calorie as the amount of fuel a car gets from gas. Denser foods have more calories and provide more energy just as diesel gas gets better engine mileage than regular unleaded. While our body needs calories to exercise, function, and ultimately survive, it is important not to overeat. Calories that are not consumed by muscles to rebuild or that are not burned off in the form of energy are stored in the body as fat34. Student must understand the following concepts if nothing else: people gain weight if they consume more calories than they use on a daily basis and people lose weight if they consume less calories than they use on a daily basis. With proper exercise, the body first burns un-stored calories in the form of carbohydrates and fats. Next, it turns to stored fats for energy. The last resort is muscle fibers. Some literature suggests that a pound of fat is worth 3,500 unused calories35. Eating fewer calories alone will not make you lose fat, since some of the weight loss may come from muscle. Limiting sodium intake to 2,000 milligrams per days is also recommended to avoid fluctuations in water weight and high blood pressure.
Net Calories = Calories Consumed – Calories Burned
Basal Metabolic Rate
Basal metabolic rate (BMR) is the number of calories the body uses to "run" its normal functions. BMR can be calculated using the following formulas. People who want to gain healthy weight and muscle mass should multiple their calculated BMR by 1.2 to find the number of calories to eat per day alongside a proper workout routine. People who want to lose healthy weight should decrease their net calorie intake by approximately 500 calories per day36. The following formulas were adapted from Beilenson's Pocket Carlorie Counter.
Women:
BMR = 655 + (4.4 x weight in pounds) + (4.7 x height in inches) – (4.7 x age in years)
Men:
BMR = 66 + (6.2 x weight in pounds) + (12.7 x height in inches) – (6.7 x age in years)
Healthy Food Choices

Unhealthy Food Choices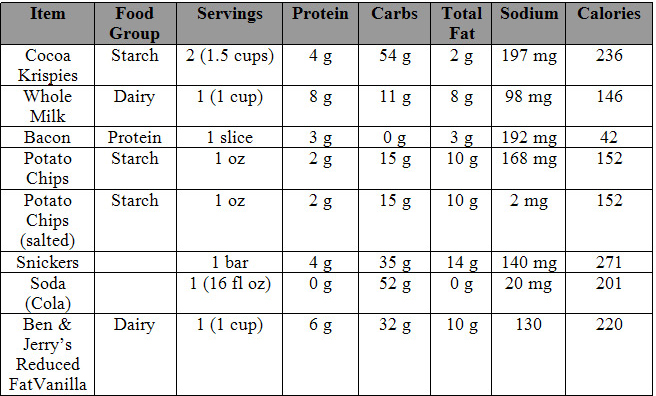 ---
Lessons
Vocabulary: Week 1
Muscle
Muscle – bundles of stretchy fiber that shorten (contract) and relax (extend)
Voluntary muscle – muscles a person can use to control, arms, legs, chest, back. Attached to the human skeleton
Involuntary muscle – muscles you cannot control, heart, digestive muscles
Tendon – a thick cord that attaches all muscle to bone
Contraction – when a muscle tightens because it is doing work
Bone
Bone – made of living cells, blood vessels, calcium, and nerves, hard, spongy core
Periosteum – outer shell of bone, surrounds the core, made of cells that can replace and repair broken bone
Blood cells – made inside marrow
Marrow – soft jelly-like substance found inside large bones, produces millions of red blood cells every day
Synovial Joint – when two bones meet to form a moveable joint
Ligaments – a specific type of cartilage, elastic fibers that hold two bones of the joint together
Cartilage – elastic fibers, protect bones from wearing away or rubbing against each other
Vocabulary: Week 2
Movement
Abduction – movement of a bone away from the midline of the body
Absorption – when the body takes nutrients into the bloodstream
Adduction – movement of a bone towards the midline of the body, the opposite of abduction
Antagonist – a muscle that works opposite another muscle when an action is performed (e.g. the tricep is the antagonist when an athlete performs a bicep curl)
Cardiovascular System
Veins – blood vessels that carry deoxygenated blood to the heart
Arteries – blood vessels that carry blood away from the heart
Capillaries – microscopic blood vessels that connect the complex network of veins to the network of arteries
Adrenaline – a hormone that increases metabolic and heart rate. Creates a moment of extreme energy
Vocabulary: Week 3
Nutritional Needs
Caloric intake - total number of calories a person eats over the course of a day
Life expectancy - the average number of years a person lives
Water - a molecule that contains one oxygen and two hydrogen atoms, water represents 45-60% of the human body
Protein - essential nutrient that is important to your health, made out of amino acids
Carbohydrates - organic compound of carbon, hydrogen, and oxygen, carbohydrates provide the human body with energy, carbs can turn into fat if not burned off
Sugar - sweet-flavored substance used in many foods to make them taste better, lots of sugar is not good for the body
Fat - fatty tissue and oils that do not dissolve in water. High fat diets are associated with disease.
Food groups
Fruits - fruits are naturally growing substances, they represent good carbohydrates that burn slowly in the body
Grains - carbohydrates such as breads, cereals, rice, pasta
Dairy - carbohydrates that have a higher protein content such as milk or cheese
Vegetables - good carbohydrates that are naturally growing and provide many nutritional needs
Proteins - meat, fish, nuts, fuel for your muscles
Minerals
Iron – present in all cells of the body, commonly found in meat and poultry
Zinc - increases appetite, a lack of zinc in the body can cause anorexia
Vocabulary: Week 4
Physical Fitness
Body mass index – comparison of weight and height
Height - length from your feet to the top of your head, measured in centimeters, feet and/or inches
Weight - how much mass a person's body contains
Percentile -comparison of one person to the total human population, nth percentile means a person is taller than n% of people for a given age group
Lean - lacking fat
Vocabulary: Week 5
Exercise
Metabolic rate – the rate that chemical reactions take place inside the body
Heart rate – quantifies the number of heartbeats per minute
Blood pressure – pressure in arteries during and between heartbeats
Hypertension - high blood pressure
Energy – measured in calories burned or consumed
Calories burned – the number of calories expended during exercise or physical activity
Moderate intensity – a workout rate at which you could hold a conversation
Vigorous intensity – a workout rate with very little rest in between sets and reps
Miles per hour – a ratio between miles and hours
Aerobic workout – low intensity physical activity, using oxygen
Low impact aerobics – good for your heart
High impact aerobics – good for your bones
Anaerobic workout – short during, high intensity physical activity, calls upon muscle endurance instead of oxygen flow
Muscles-trengthening activities – activities that breakdown muscles, muscles repair themselves and grow back stronger, mass increases over time
Bone-strengthening activities – impact and tension promotes bone growth
Pace – the rate at which a person is doing work
Balance – using muscles and bones in inner ear to stabilize the human body
Stretching – increases length and decreases tension inside muscles
Total Energy Expenditure – rate of expenditure multiplied by the total workout time
Writing Prompts
1) Identify two problems with the American diet.

2) Why does eating less food not solve the problem for many American children who want to lose weight?

3) What is at stake for young children and adults who are obese?

4) Name one of the two cardiovascular diseases we have studied that result from plaque buildup in arterial areas. Explain what the disease is and how it affects the human body.

5) What are several ways to help prevent cardiovascular disease?

6) What does it mean to have a healthy body weight? You may discuss the Body Mass Index (BMI) in your answer?

7) Do you know anyone who has had diabetes? Please discuss this person's symptoms and relate them to your studies of diabetes and insulin regulation.

8) Why is too much glucose bad?

9) Why is it important to drink milk or eat foods that are high in calcium? Be sure to compare and contrast why children and adults both need calcium in their diet.

10) Why is the Body Mass Index (BMI) not a perfect measure of a person's physical fitness? Think about the BMI of professional athletes. Discuss the legitimacy of using one fixed scale to compare the bodies of children, adults, and athletes alike.
Learning Scenarios
Title: "What does BMI really tell us about a person?
Topic: Calculating Body Mass Index
Objective: Students will use the Body Mass Index chart to calculate the BMI of their favorite professional or Olympic athletes. Then, students will compare and contrast the BMI categories of athletes that play different sports. This activity is meant to encourage students to look past the numbers. We cannot measure physical fitness solely based on numbers and simple calculations. Students should be able to use their knowledge of the limits of the BMI scale to explain in detail why most football players, basketball players, sprinters, and body builders are not unhealthy or "overweight" despite their high BMI. Additionally, students should be able to explain why some soccer players are in great shape even though they may have a very low BMI. What does BMI tell us about athletes if it does not give us an accurate measurement of their body fat? A low BMI allows physical trainers to more carefully monitor athletes for dehydration. Doctors are careful to check the blood pressure and heart rate of athletes with a high BMI.
Title: "You Are What You Eat!"
Topic: Comparing the diets of two professional athletes: Ray Allen and Michael Phelps
Objective: As a class, take a close look into articles releasing the diets of NBA star Ray Allen (http://www.healthcentral.com/obesity/c/59238/113384/celtic-basketball) and Olympic Gold Medalist Michael Phelps (http://www.foxnews.com/story/0,2933,403803,00.html). More important than the diets themselves, students should be able to explain how both athletes maximize their caloric intake through intense workout routines. Michael Phelps is able to maintain a 12,000 calories diet because he spends upwards of 8 hours per day training—he only has to perform occasionally at his peak. Ray Allen, on the other hand, maintains an equally powerful diet in a couple thousand calories. Ray must be more careful about when he eats certain foods because he has to perform at peak capacity three or four times in a given week.
Classroom Activities
Title: "Food Journal"
Topic: How many calories am I eating each day?
Objective: Students will keep a journal and log what they eat and how many calories they consume daily. This activity is designed to show students exactly what they put in their bodies on a daily basis. In this activity, students will record what they consume for seven straight days. They will look up the number of calories consumed in each meal and break the meal into its primary nutritional ingredients. Each day they will receive a grade for their calculations and the overall balance of their diet. Students will work together in pairs or small groups to analyze the information and discuss trends. This same information will be used to compare the diets of students at Roberto Clemente to the diets of world-class athletes and people with diabetes and other diseases and conditions related to poor nutrition. This activity will review the teaching of units, ratios, unit rates, and graphing.
Title: "Activity Journal"
Topic: How many minute of activity am I doing each day & how many calories do I burn in a day?
Objective: Students will learn the importance of daily physical activity. They will learn that exercise not only makes you feel better, but also helps with memory, mood, and brain function. Students will develop and share strategies for finding time and space to practice different forms of exercise and physical activity.
Title: "Blast Off Game"
Url: http://www.fns.usda.gov/multimedia/Games/Blastoff/BlastOff_Game.html
Objective: Students will follow the instructions of an interactive computer game to explore healthy food choices and balanced meals. The objective of the game is for kids to reach Planet Power by fueling their rocket with food and physical activity. "Fuel" tanks for each food group help students keep track of their meals and food choices.
Title: "Choose Your Plate"
Topic: Healthy Meal Choices
Objective: Given a blank template of a plate, students use their new knowledge of nutrition to create a meal that incorporates the five main food groups and a healthy ratio of carbohydrates, proteins, and fat.
Title: "Healthy Eating Chart"
Topic: Healthy Meal Choices
Objective: Students will create a healthy eating chart or "cheat sheet" for their 1st grade reading buddies. Students will include their favorite food choices for each food group and a suggested number of servings.
---
Bibliography
Baker, Al. "As Schools Battle Obesity, Physical Education is Sidelined," The New York Times, last modified July 11, 2012, http://www.staradvertiser.com/news/20120711_As_schools_battle_obesity_physical_education_is_sidelined.html?id=162026815.
Beilenson, Suzanne. The Pocket Calorie Counter: The Complete, Discrete, and Portable Guide for Managing Your Health. White Plains, New York: Peter Pauper Press, Inc., 2012.
Harding, Anne. "Study Questions Benefits of Reducing Sodium," CNN Health, last modified November 9, 2011, http://www.cnn.com/2011/11/09/health/study-questions-low-sodium-diets/index.html.
Lemov, Doug. Teach Like a Champion: 49 Techniques that put Students on a Path to College. San Francisco: Jossey-Bass, 2010.
McCracken, Thomas O. Anatographica: A Fantastic Three-Dimensional Journey into the Body. China: BCL Press, 2011.
Moyer, Melinda Wenner. "End the War on Fat: It Could be Making us Sicker," The Slate Group, last modified Mach 25, 2010, http://www.slate.com/articles/health_and_science/medical_examiner/2010/03/end_the_war_on_fat.html.
Silverstein, Ken. "Viewing Bodily Imperfection as a Health Problem." In Social Problems Readings, edited by Ira Silver, 51-60. New York: W.W. Norton & Company, Inc., 2008.
The Center for Consumer Freedom. "Getting Fat on Misinformation." In Social Problems Readings, edited by Ira Silver, 68-74. New York: W.W. Norton & Company, Inc., 2008.
United States Department of Health & Human Services. "Assessing Your Weight and Health Risk" National Heart Lung and Blood Institute, http://www.nhlbi.nih.gov/health/public/heart/obesity/lose_wt/risk.htm#limitations
Van de Walle, John A., Karen S. Karp, and Jennifer M. Bay-Williams, eds. Elementary and Middle School Mathematics: Teaching Developmentally, Seventh Edition. New York: Pearson Education, Inc., 2010.
Wood, Chip. Yardsticks: Children in the Classroom Ages 4-14, 3rd Edition. Tuner Falls, Massachusetts: Northeast Foundation for Children, Inc., 2007.
Zinczenko, David and Matt Goulding. Eat This, Not That! New York: Rodale, Inc., 2010.
---
Endnotes
1. Baker, Al. "As Schools Battle Obesity, Physical Education is Sidelined," The New York Times
2. Ibid
3. Ibid
4. Ibid
5. Center for Disease Control and Prevention
6. Ibid
7. McCracken, Thomas O. Anatographica: A Fantastic Three-Dimensional Journey into the Body, 10
8. McCracken, Thomas O. Anatographica: A Fantastic Three-Dimensional Journey into the Body, 32
9. McCracken, Thomas O. Anatographica: A Fantastic Three-Dimensional Journey into the Body, 44
10. McCracken, Thomas O. Anatographica: A Fantastic Three-Dimensional Journey into the Body, 59
11. McCracken, Thomas O. Anatographica: A Fantastic Three-Dimensional Journey into the Body, 60
12. McCracken, Thomas O. Anatographica: A Fantastic Three-Dimensional Journey into the Body, 62
13. McCracken, Thomas O. Anatographica: A Fantastic Three-Dimensional Journey into the Body, 62
14. McCracken, Thomas O. Anatographica: A Fantastic Three-Dimensional Journey into the Body, 62
15. McCracken, Thomas O. Anatographica: A Fantastic Three-Dimensional Journey into the Body, 62
16. McCracken, Thomas O. Anatographica: A Fantastic Three-Dimensional Journey into the Body, 64
17. McCracken, Thomas O. Anatographica: A Fantastic Three-Dimensional Journey into the Body, 67
18. McCracken, Thomas O. Anatographica: A Fantastic Three-Dimensional Journey into the Body, 142
19. Ibid
20. Ibid
21. McCracken, Thomas O. Anatographica: A Fantastic Three-Dimensional Journey into the Body, 142
22. McCracken, Thomas O. Anatographica: A Fantastic Three-Dimensional Journey into the Body, 130
23. Ibid
24. Center for Disease Control and Prevention
25. Beilenson, Suzanne. The Pocket Calorie Counter: The Complete, Discrete, and Portable Guide for Managing Your Health, 6
26. McCracken, Thomas O. Anatographica: A Fantastic Three-Dimensional Journey into the Body, 180
27. McCracken, Thomas O. Anatographica: A Fantastic Three-Dimensional Journey into the Body, 180
28. Eat Your Way to Happiness
29. Moyer, Melinda Wenner. "End the War on Fat: It Could be Making us Sicker."
30. Ibid
31. Ibid
32. Ibid
33. Ibid
34. Beilenson, Suzanne. The Pocket Calorie Counter: The Complete, Discrete, and Portable Guide for Managing Your Health, 7
35. Ibid
36. Beilenson, Suzanne. The Pocket Calorie Counter: The Complete, Discrete, and Portable Guide for Managing Your Health, 12
37. United States Department of Health & Human Services. "Assessing Your Weight and Health Risk" National Heart Lung and Blood Institute
38. Ibid
Contents of 2012 Volume III | Directory of Volumes | Index | Yale-New Haven Teachers Institute