The Learning Targets
Each learning target has been carefully worded to align with one or more of the National ACTFL Standards. The following is a list of each target with a description of how they align with the standards and what strategies will be in place to meet the learning target.
Target 1: I can discuss the Puerto Rican Diaspora of the 1900's and compare and contrast to the Great Migration of the African Americans.
Target 2: I can discuss the intricacies of racial dynamics in baseball before 1947.
Discussing the history of migration of the Puerto Rican community and comparing it to the Great Migration northward of the African American community can be a tricky thing. Race and ethnicity and the definitions of these words play an integral role in understanding the reasons why things happened the way they did. The history behind these linked histories really starts with early white European immigrants from the 19th century. The word ethnic was used to describe the cultural differences between the Italians, Irish, and Germans who were coming to New York. Neighborhoods for each group eventually formed which separated each group, allowing them to hold onto much of their culture. In the late 1960's ethnicity changed from meaning cultural difference, to meaning race, which changed the dynamic of racial policies in the years to come.
While Puerto Ricans and African Americans have been a part of New York since the 1800's, it was two major events that propelled a mass migration to the city. The Immigration Act of 1924,designed to prevent any further immigration from Europe and Asia, coupled with the end of the wartime economy meant that there were labor shortages everywhere. The Department of Labor began recruiting low skilled African Americans and Puerto Ricans to fill manufacturing jobs. This double Diaspora created an interesting dynamic between these two groups. They often ended up living in the same areas and working the same low skill, low pay jobs.
Although very culturally and racially different, African Americans and Puerto Ricans were treated the same by white society. Both were considered colored. This created tension because Puerto Ricans as well as other people from Spanish speaking countries have their own racial and cultural identity. In the postwar period, many people were confusing Puerto Ricans with "Negro" or African Americans coming from the south. In many cases, it was not confusion but just a lack of caring to distinguish between these two groups. In the early 1900's the one-drop rule was in effect, where if you had "one drop" of black in you, you were considered colored and didn't have equal rights to whites.
As these two groups of people migrated to New York, they were coming to a place where there were already several different migrant communities, including the Irish, Italians, Germans, and many others who had gone through the same kinds of struggles when they first arrived. One of the main things that children did for entertainment was to play sports. Sports became a very important part of the culture as a means of entertainment and income for those athletes who were good enough. The same holds true for the African American and Latino communities. In 1947 the color barrier was broken in Major League Baseball but Latinos and African Americans had been playing professionally in the Negro Leagues as early as 1906.
Latinos have a unique colonial history. During the colonization of South America and the Caribbean there was a lot of mixing of races. The result is a racially and culturally diverse group of people that all fall under the same umbrella of Latino. This is important for understanding the dynamics of Latinos in baseball in the early twentieth century because in New York there were Latinos that were from Cuba, who have a mostly Spanish ancestry and could be considered white because of their light skin complexion, and there were also Puerto Ricans, who tend to have a wider range of skin complexions who could not be considered white. The result was that some players who were good enough and "white" ended up playing in the Majors while the rest played in the Negro Leagues, which began to include Latino teams like the Cuban Stars.
As the whites were playing in the majors, African Americans and Latinos played together all over the country. There were African Americans and Latinos in the Negro Leagues in North America as well as the Caribbean Leagues. Baseball was truly a uniting force for these two migratory Diasporas, despite differences creating tensions between the groups more often than not.
One of the main differences that African American players and Latino players had to overcome was the language barrier. Even today, in the twenty-first, language is a barrier among different racial groups in the US. Back in the 1930's and beyond, it was even worse. What began to happen then, and what happens now, is that all Latinos in baseball began to be grouped under one name; Cuban. One example of this was when Luis Olmo, the second Puerto Rican Major Leaguer, encountered this when a newspaper wrote about him in an article while he was playing in the minor leagues, "Roberto Olmo, 21-year old Cuban out-fielder". This happened because Cubans "whiteness" allowed them to integrate into Major Leagues decades before any other Latino group. Newspapers and other media were used to referring to any Latino sounding last name like Rodriguez, Rivera, or Olmo as Cuban since they were they only sub-group that was allowed to play. This had many negative consequences for the Latino community. It cast a shadow on many of the struggles that poor Puerto Ricans and other Latino sub-groups were going through in the time period in New York.
Baseball was changing the times. Although racism and segregation was still institutional, the trends in the Negro Leagues and Caribbean Leagues began to open the eyes of many important people. Both the African American and Latino communities used baseball as a way to persevere. Players pushing through boundaries were inspiring fans to do the same, and in 1947, Branch Rickey would give a man the chance to change America.
Target 3: I can discuss and analyze the career of MLB player Roberto Clemente in the context of the time period.
Target 4: I can discuss and analyze the career of MLB player Jackie Robinson in the context of the time period.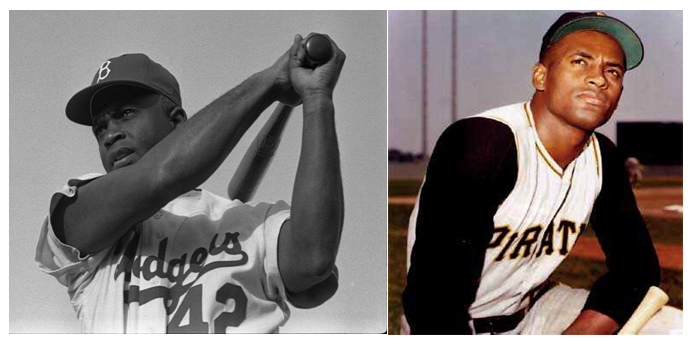 Jackie Robinson was born on January 31, 1919 and went on to become the first African American baseball player to play in Major League Baseball. He made his debut in 1947. Similar to Clemente, he stayed with the same team for the entirety of his career, and went on to help the Brooklyn Dodgers win the World Series in 1955. As the first African American player in the professional sport he had to deal with an unlimited amount of discrimination and scrutiny. However, his success in the league would pave the way for players like Roberto Clemente.
The story of Jackie Robinson really begins with a man named Branch Rickey. In the 1940's Mr. Rickey was the President of the Brooklyn Dodgers, and he was very interested in recruiting Robinson to play in the majors for his team. Racial segregation in baseball was indicative of where American society was at the time. Legal segregation and the lack of many rights prevented African Americans from having a strong voice. Mr. Rickey wanted to be a part of a change that would have come to America either way, and challenged Robinson to take on all the neigh Sayers by playing baseball and remaining silent. Robinson at first, felt as if he was being asked to take all of the insults, but Rickey saw the big picture and signed Robinson to the Dodgers. On April 15, 1947 Jackie Robinson became the first African American player to player in the Major Leagues.
The beginning of Jackie's career with the Dodgers was tumultuous to say the least. Not only did he endure constant racism from fans, other teams, and the media, but also his own teammates did not want to play with him, going as far as writing a petition to Mr. Rickey to either trade Robinson, or them. However, after showing his guts by not fighting back and playing good baseball like Mr. Rickey asked, his teammates began to support him. By the end of Robinson's first season, with all his success, two more African American players, Dan Bankhead and Larry Doby were signed to the Dodgers and the Cleveland Indians. Robinson changed the game of baseball forever.
Jackie Robinson played for ten full seasons. It is interesting to note that after his third year with the dodgers, Rickey told him that his time in silence was over. The trend of African American players in the Majors was one that wasn't going away. Robinson responded by excelling his play to another level and gracefully defending himself from the media when he had to. He retired in 1946 and was voted into the Baseball Hall of Fame in 1961.
Roberto Clemente is perhaps the most famous and important athlete in the eyes of the Latino community. He was born on August 18, 1934 and debuted in the majors with the Pittsburg Pirates in 1955. He became popular among Americans during the 1960's and was the first Hispanic player to reach 3,000 hits. Sadly, he died in an airplane crash on New Year's Eve 1971 while flying supplies to Nicaragua after an earthquake there.
Even though Jackie Robinson broke the color barrier in Major League Baseball in 1947, by the time Clemente began playing there were still not very many Latino players in the majors. Before Robinson, the color barrier prevented players like Clemente who were dark skinned from playing in the majors. Most superstars played in their own countries or the Negro League. There were however a few instances where a Latino was light skinned enough to be considered white; like Adolfo Luque, who was born in Cuba and was a prominent pitcher for the Cincinnati Reds in the 1920's, but even then, the language barrier was still a major issue.
After Robinson broke the color barrier it was still a few years before players of color became commonplace. Clemente became one of the first major Latin-American superstars that pioneered the way for famous players of today like Alex Rodriguez, David Ortiz, and Robinson Cano. Like Robinson and other African American players of the time, Latin American players faced racial discrimination and harassment from fans, players, and the media. This however, came as a surprise to players like Clemente. Most Spanish speaking countries, and especially the Caribbean; Puerto Rico, Dominican Republic, and Cubawere places where a sense of nationalism was more important than skin color. Although Puerto Ricans are of all different colors, there was little to no racial tension. This was a new challenge that Clemente had to overcome.
Clemente had another roadblock ahead of him that Robinson never had to endure, a language barrier. Clemente quickly realized that his teammates and coaches were not going to help him improve his English. He would have to do it on his own. One of the things that Clemente noticed early on was how the newspaper reporters covered him. Having not learned any English growing up, Clemente had to learn in public. Many times he was quoted in newspapers phonetically rather than what he was actually saying. For example, "I no play so gut yet. Me like hot weather, veree hot. I no run fast cold weather." Roberto knew many members of the media were mistreating him, but his response to them was, "Those reporters only know one language, I know good Spanish and my English is getting better everyday." With time Clemente conquered this road block as well. By the end of his career, his popularity with the entire nation prevented reporters from misquoting him.
Statistically, Roberto Clemente's career is legendary. He won twelve Gold Glove Awards, was in twelve All-Star games, and had the highest batting average in a season four times. In the last game of the 1972 regular season Clemente hit a double to become only the eleventh player in history to get three thousand hits. During the off-season on New Year's Eve he organized an effort to send supplies to Nicaragua, which had just suffered a massive earthquake. He was onboard to lead the group, but his plane crashed off the coast of Puerto Rico. Everyone on board was killed, Clemente's body was never found. Only a few days later, the Hall of Fame Induction committee voted unanimously to induct him into the Baseball Hall of Fame.
Jackie Robinson and Roberto Clemente are arguably two of the most influential people to the African American and Latino communities. Not only were they top superstars in the sport of baseball, their contributions to society in the context of social justice were invaluable. The communities in New York, Chicago, and other places had men who looked like them and came from where they were and persevered and succeeded despite all of the discrimination of the first two-thirds of the twentieth century, especially in the case of Roberto Clemente who was killed so tragically, became an idol for the country of Puerto Rico. Today there are countless schools, scholarships, and programs named after him, even a school here in New Haven.
Once the students explore the careers of both men they will be asked to then compare and contrast Clemente's career with Jackie Robinson's. They will do this by writing a dialogue between the two men or writing a journal entry as one of the athletes. These pieces will then be shared with the class, and the best ones will be posted.
Target 5: I can discuss the differences of various styles of hip-hop from the late 20th century.
Target 6: I can identify different types of music including Salsa, Reggeaton, Hip-Hop etc.
To understand where popular music is today culturally amongst the youth in terms of the dynamic between "African American" Hip-hop and Latin Rap or Reggeaton we have to go back in time to the early 1970's. In an earlier section I wrote about the dynamics of the double Diaspora of the early twentieth century between African Americans and Latinos. Many of these people ended up living in the South Bronx, which is where the foundations of "Hip-Hop" began. Grafitti, DJing, and rhyming were all new forms of expression that were beginning to have pockets of popularity. Puerto Ricans and African Americans were the two groups that were championing this movement.
Even though Puerto Ricans were partly responsible for the creation of this new art form, they were quickly marginalized from being a part of "hip-hop". This can be understood through the context of their migration to New York City. Like African Americans, Puerto Ricans were part of the lowest earning labor force and had to deal with discriminations of all kinds. However, Puerto Ricans experienced a racial dynamic that African Americans did not. Puerto Ricans, as well as other Latino groups, are visually very multiracial. Skin tones ranging from snow white to very black made it difficult for society, which was still in the throws of the civil rights movement, to distinguish Puerto Ricans as white or black. Therefore they became this subgroup that, while different from African Americans in many ways, shared many social spaces, which lead to cultural unity sometimes, and tension others.
When Sugarhill Gang released their record "Rapper's Delight" in 1979, the musical genre was born. There were many Puerto Rican artists at the time that were becoming popular such as DJ Charlie Chase and The Real Roxanne in the early days. However, because the media was labeling this music as racially black, combined with the fact that many people who were not from the city did not or could not tell the difference between African Americans and Puerto Ricans, none of the Puerto Rican rap artists gained any real popularity. The rift became larger when lyrics of popular rap records dealt with very uniquely black issues and further separated rap from Puerto Ricans in the eyes of African Americans, Puerto Ricans and the media.
As the second generation of Nuyoricans got older, both groups marginalized them. Older Puerto Ricans felt they were letting their culture go, while they were still too different from African Americans to be considered African American or Black culturally or racially. The emergence of a new genre, created by young Latino artists, Freestyle, was a response to this marginalization. They wanted a cultural identity in the music business other than Spanish-language music i.e. Salsa. Freestyle sound, much like the group itself, had qualities that were similar to rap and others that were different. Lyrics focused on love and relationships, while rappers' lyrics were more about social issues. Freestyle would be popular for a time but it wasn't until the 1990's that Puerto Ricans would be accepted into the rap world.
While marginalization from both groups was a frustrating thing for second generation Puerto Ricans who wanted to be in the music industry, in the 1990's several new artist were discovered that took the best from Spanish language music ie. Salsa and the best from popular Hip-Hop and created a new style that would garner popularity in mainstream media. Reggeaton was born.
---
Appendix C: Bibliography
Maraniss, David. "Roberto Clemente: The King of Béisbol | History & Archaeology |
Smithsonian Magazine." History, Travel, Arts, Science, People, Places |
Smithsonian Magazine. http://www.smithsonianmag.com/history-archaeology/Roberto-Clemente-The-King-of-Beisbol.html (accessed July 24, 2013).
This is an article by David Maraniss that tells a few anecdotes of Clemente's life; the details of his death, and why his helmet is an important piece of history.
Martinez, David. True Heroes of Baseball The Stories of Jackie Robinson and Roberto
Clemente . Amazon Digital Services, Inc.: Homerunweb books, 2011.
In True Heroes of Baseball David Martinez explores the lives and careers of Jackie Robinson and Roberto Clemente. Both of these influential figures help to change and shape the history of Major League Baseball and American Society. Jackie Robinson, with the help of Brooklyn Dodgers manager Branch Rickey became the first African American to be signed by a Major League organization. Roberto Clemente became the first Latin American player to be inducted into the Hall of Fame. This books explores these men, their lives, and the legacy they left behind.
Mambo montage the Latinization of New York. New York: Columbia University Press,
2001.
Mambo Montage is a collection of articles by several authors that describe and explain the history of the latinization on New York City through different lenses. In particular for this unit chapter 2 which deals with the culture of Latino baseball in the early 1900's, chapter 3 which deals with the migratory Diaspora of Puerto Ricans to New York compared to that of the African American community, and chapter 8 which deals with the marginalization of Puerto Ricans from hip-hop in the 1970's and 1980's.
Nasaw, David. "At Play in the City." In Children of the city: at work and at play. Garden
City, N.Y.: Anchor Press/Doubleday, 1985. 17-38.
Children of the City focuses on the history of children growing up in New York City in the early twentieth century. The importance of sports to migrant communities has been very apparent throughout history and it is important to be able to compare and contrast with other groups and time periods.
Contents of 2013 Volume II | Directory of Volumes | Index | Yale-New Haven Teachers Institute