Guide to Curriculum Units
by Fellows of the Yale-New Haven Teachers Institute
2021
Contents
Preface
In February 2021 teachers from New Haven Public Schools became Fellows of the Yale-New Haven Teachers Institute® to deepen their knowledge of the subjects they teach and to develop new curricular material to engage and educate the students in their school courses. Founded in 1978, the Institute is a partnership of Yale University and the New Haven Public Schools, designed to strengthen teaching and improve learning of the humanities and STEM fields in our community's schools. Through the Institute, Yale faculty members and Public Schools teachers join in a collegial relationship. The Institute is also an interschool and interdisciplinary forum for teachers to work together.
The Teachers Institute has repeatedly received recognition as a pioneering model of university-school collaboration that integrates curriculum development with intellectual renewal for teachers. Between 1998 and 2003 it conducted a National Demonstration Project that showed the approach the Institute had taken for twenty years in New Haven could be tailored to establish similar university-school partnerships under different circumstances in other cities. Based on the success of that Project, in 2004 the Institute announced the Yale National Initiative to strengthen teaching in public schools®, a long-term endeavor to influence public policy on teacher professional development, in part by establishing in states around the country exemplary Teachers Institutes following the approach developed in New Haven and implemented elsewhere. Evaluations have shown that the Institute approach exemplifies the characteristics of high-quality teacher professional development, enhances teacher quality in the ways known to improve student achievement, and encourages participants to remain in teaching in their schools.
Teachers had primary responsibility for identifying the subjects on which the Institute would offer seminars in 2021. Between October and December 2020, teachers who served as Institute Representatives and Contacts canvassed their colleagues in New Haven public schools to determine the subjects they wanted the Institute to address. The Institute then circulated descriptions of seminars that encompassed teachers' interests. In applying to the Institute, teachers described unit topics on which they proposed to work and the relationship of those topics both to Institute seminars and to courses they teach. Their principals verified that their unit topics were consistent with district academic standards and significant for school curricula and plans, and that they would be assigned courses or grade levels in which to teach their units during the following school year.
Through this process four seminars were organized, corresponding to the principal themes that emerged during the canvassing. The seminars were:
"The Social Struggles of Contemporary Black Art," led by Roderick Ferguson, Professor of Women's, Gender and Sexuality Studies, and of American Studies;
"Developing Anti-Racist Curriculum and Pedagogy," led by Daniel Martinez HoSang, Associate Professor of Ethnicity, Race, and Migration and of American Studies;
"How to Do Things with Maps," led by Ayesha Ramachandran, Associate Professor of Comparative Literature; and
"

The Earth's Greenhouse and Global Warming

," led by Peter Raymond, Professor of Ecosystem Ecology.
Between March and July, Fellows participated in seminar meetings online, studied the seminar subject and their unit topics, and attended a series of talks by Yale faculty members.
The curriculum units Fellows wrote are their own; they are presented in a volume for each seminar. The units, which were written in stages over time, contain five elements: content objectives, teaching strategies, examples of classroom activities, lists of resources for teachers and students, and an appendix on the academic standards the unit implements. They are intended primarily for use by Institute Fellows and their colleagues who teach in New Haven.
This Guide to the 2021 units contains introductions by the Yale faculty members who led the seminars, followed by synopses written by the authors of the individual units. The Fellows indicate the courses and grade levels for which they developed their units and other places in the school curriculum where the units may be applicable. Copies of the units are deposited in New Haven schools and are online at teachersinstitute.yale.edu. A list of the 233 volumes of units the Institute has published between 1978 and 2021 appears in the back of this Guide.
The Yale-New Haven Teachers Institute is a permanently endowed academic unit of Yale University.
James R. Vivian
New Haven
August 2021
Introduction by Roderick Ferguson, Professor of Women's Gender and Sexuality Studies and of American Studies
Black art has historically been not only a domain for various artistic representations but also a venue from which to recast and explore several historical and social struggles. While that exploration has obviously dealt with issues of race, slavery and colonialism, black diasporic art has also been a powerful venue for addressing issues of gender, sexuality, the environment, militarism, technology, and so on. Indeed, recent developments in scholarship, curation, and activism have exhibited the central place that black art occupies in engaging these issues.
These developments have placed at least two significant pressures on how we think of art, in general, and black art, in particular. First, these shifts have challenged conventional assumptions that art is best known and assessed according to its formal properties only. Instead, this rethinking in how we encounter art insists on placing it in dialogue with historical, political, and social contexts. Second, these transformations urge us to understand black art and the social processes that it engages within transnational rather than national frameworks. To this end, these approaches have eschewed frameworks that seek to contain art within any single national tradition and instead has located black art within both national and transnational social processes, movements, and struggles.
To this end, our seminar worked to place art by black artists from Africa, Europe, and Latin America in feminist, anti-colonial, anti-racist, abolitionist, environmental, and queer politics. As the Fellows engaged these works, they produced a dynamic set of conversations about the relevance of black contemporary art in this historical moment. Those conversations led to unit plans that are both pertinent and inspired. In their own individual ways, each one manages to address a variety of social issues and to present the intricacies of black art as well.
Leslie Blatteau's unit plan "Black Art and Climate Justice" powerfully uses the art of African American artists Maren Hassinger and LaToya Ruby Frazier and Kenyan artist Wanuri Kahiu to analyze the global parameters of the environmental crisis and the inequalities that occasion and emanate from it. Carol Boynton's "Contemporary Black Picture Book Artists: Families of Illustrators" creatively presents illustrators from African American families who see their art as a way of educating young people about race as a historical formation. Nataliya Braginsky's "Synopsis of Cultural Histories of 20th century Black and Latinx Freedom Struggles" brilliantly presents the visual art, music, performances, and fashion of black and latinx communities within the U.S. to demonstrate to students how cultural forms become participants in and records of historical struggles. Cheryl Canino's provocative unit plan "Blacks in Nature: Oxymoron or Paradox?" asks students to observe African American artists' engagements with nature as a way of illuminating the racialized meanings that nature has acquired in U.S. history. Dan Croteau's "The Eye of the Beholder: A Critical Look at Visual Art and A Raisin in the Sun" proposes an intriguing exploration of Lorraine Hansberry's classic play and its resonance with visual artists such as Romare Bearden, Norm Lewis, and Emma Amos, using their art to explore the civil rights movement and battles over racial segregation. Melissa Dailey's "The Journey of the Artist: Storytelling to Transform" movingly proposes an examination of the healing powers of art, particularly for students who have had to negotiate social and epidemiological urgencies. In Cathy Ramin's excellent proposal "The Curator as Social Change Agent," she looks at the work that African American curators have done to foster transformations in U.S. society and the art world. Steve Staysniak's marvelous "Visual Literacy, Creative Response, and the Afrofuturist Aesthetic" proposes Afrofuturism as an interpretive framework through which students will analyze both art and society, paying particular attention to the work of the Mexico-based artist Clotilde Jimenez. Eden Stein's capacious proposal entitled "Historical Allusions and Art in Jacqueline Woodson's Brown Girl Dreaming" interrogates the vast visual, literary, musical, and social worlds presumed in Woodson's award-winning memoir. Rebecca Williams's pertinent proposal "Contemporary Black Art: Race as a Metalanguage for Intersectionality" uses black visual art to explore the multi-faceted nature of identity, focusing on the work of South African artist Zanele Muholi and the Ghanaian American artist Bisa Butler among others. To engage black art and its social implications, each of the unit plans beautifully culminates in assignments that ask students to become artists and/or curators themselves.
Synopses of the Curriculum Units
Introduction by Daniel Martinez HoSang, Associate Professor of Ethnicity, Race, and Migration and of American Studies
The summer of 2020 sparked a series of reckonings among many educators about the role of race and racism in public school curriculum, pedagogy, and classroom culture. Teachers and schools endorsed new statements of solidarity. Promises of personal reflection proliferated. Yet even among teachers committed to anti-racist education, a central challenge remains. In the words of teacher educator Meredith Sinclair, how do teachers move from "disposition" to "manifestation," or from attitude to practice? And more particularly, what does it mean for teachers in diverse fields—math education, language arts, music—to transform the ways they teach, design curriculum, and engage students through an anti-racist framework?
These questions animated the work of 11 New Haven teachers in "Developing Anti-Racist Curriculum and Pedagogy." The seminar began by exploring the ways that K-12 education in general and the academic disciplines in particular have been organized around ideas of racial colorblindness, objectivity, and neutrality, often denying any connection to racial power or contemporary inequality. Yet a closer investigation reveals a far more complicated relationship. Many academic disciplines in the humanities, natural sciences, and social sciences have their origins in white supremacy, Eugenics, and nativism, and continue to bear those legacies today. Indeed public education, with its histories and ongoing practices of race and class segregation, tracking, intelligence testing, unequal funding, and heavy-handed discipline policies, have never been color-blind or apolitical.
As the seminar progressed, participants considered the ways these racialized histories have shaped dominant approaches to teaching and learning in their own subject areas. Why, for example, are most approaches to math education rooted in processes of hierarchy and sorting that label some students as capable and adept while leaving many others frustrated and disinterested in math? Why do the dominant approaches to music education and performance often focus on a single tradition of European classical music and similarly rank students into rigid orders of "genius" and failure? Many other fields, from science education to expository writing to foreign language instruction, bear similar patterns and outcomes.
The curriculum units produced by Fellows demonstrate how teachers in these subject fields can reimagine and transform their curriculum and pedagogy to engage students in complex modes of learning that do not reproduce long-standing structures of inequality and disposability.
For example, music educator Henry Lugo's unit, "Anti-Racist Pedagogy and Counter-Narrative Repertoire for the Middle School Orchestra" reimagines orchestral instruction and music history and provides teachers with new arrangements to broaden the musical repertoire they can introduce to students. Lauren O'Brien's unit, "Using Multilingual, Immigrant, and Refugee Students' Voices to Disrupt Racism in English Language Instruction" helps to "disrupt the racist ideas that permeate teaching English as a 'second' language (ESL)" through an inventive set of pedagogies.
Amy Brazauski's "Rethinking Social Justice Research in the High School ELA Classroom," draws on a range of influences, including Critical Race Theory and Cultural Community Wealth to facilitate student engagements with difficult social and political issues, culminating in a public Social Justice Symposium and website.
Marco Cenabre's unit, "Recentering Humanity: An Anti-Racist Approach to Narrative Writing" aspires to transform futile "approaches to writing instruction that attempt to teach the TikTok generation to sound like Henry David Thoreau." Cenabre emphasizes collective practices of writing and expression centered in "academic rigor and collective joy" driven by the genuine experiences of students.
Rose Murphy's "Environmental Justice in Literature: Review, Resistance, Renaissance" likewise challenges the dominant racism-blind orientation to the study of literature about the environment and focuses instead on the resources and creativity that subordinated groups have brought to address environmental issues and futures.
Val Karanxha's unit, "The Legacy of Francophonie in Post-Colonial Africa" encourages French language instructors to draw on the vast cultural, linguistic and social repository of Francophone Africa as an alternative to the focus in traditional second language instruction on formal grammar and linguistics divorced from histories of colonialism, racial formation, and social identity.
Anti-racist curriculum and pedagogy also have generative uses in math education and statistics, as demonstrated by the units by William McKinney and Kathleen Rooney. Rooney's "Seeing Race in Statistics" and McKinney's "Eyes Wide Open: E(race)ing Color-Blindness in the Math Classroom" both counter the prevailing color-blind and power-blind approaches that characterize these fields while developing the necessary skill-based competencies among students.
The last three units are authored by middle school teachers, demonstrating the importance and applicability of anti-racist curriculum and pedagogy for students before they reach high school. Carolyn Streets' "The House On Mango Street: Examining Race, Racism, and Power" places the widely taught novel by Sandra Cisneros into a framework attentive to questions of culture, identity formation and inequality.
Felicia Fountain's unit for eighth grade social studies students, "Invisible Incidences in America-The Great Migration and Destruction of Thriving Black Communities" examines issues of racial violence, dispossession, community formation and resistance across the 20th century, rooted in a range of innovative pedagogical techniques.
Finally Dena Vaillancourt's "Adding Race Consciousness to the Slavery Curriculum" similarly supports students in understanding the complex ways that white supremacy and racial formation nurtured the development of slavery in the United States, while helping students to contemplate the legacies of these systems today.
Synopses of the Curriculum Units
Introduction by Ayesha Ramachandran, Associate Professor of Comparative Literature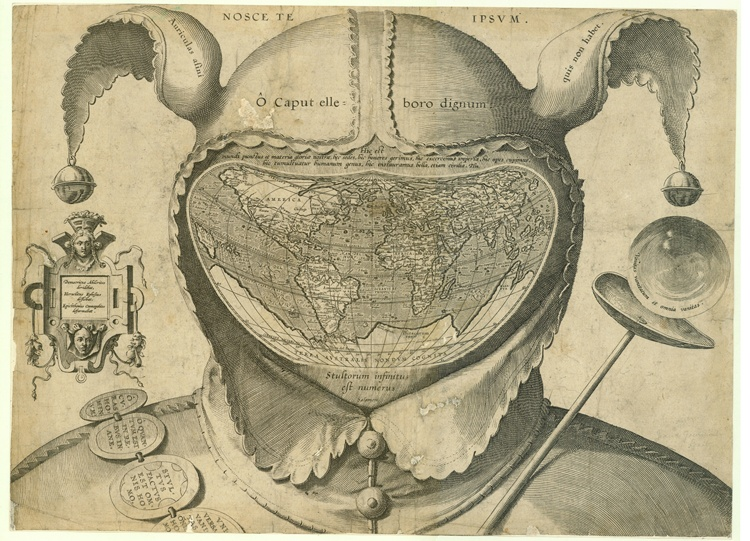 "Cordiform World Map in Fool's Cap," [Novacco MS 2F 6, https://www.newberry.org/file/1366]. Courtesy of the Newberry Library.
The anonymous Fool's Cap Map, published sometime around 1590, shows the striking juxtaposition of a then state-of-the-art world map inside the motley hat of a court jester (or Fool). Entitled, "Nosce teipsum" – know yourself – the engraving evokes the merging of world and self as the map image becomes the figure's face. We can only know the world through the self, it seems to suggest—or, alternatively, know the self through its connections in and with the world. More important, perhaps, it embeds the map itself—a now-iconic emblem of mathematical accuracy, empirical proof, and scientific method—into a deeply humanistic, allegorical, and moral matrix suggesting the inextricable relations between science and art.
This seminar took up the invitations to thinking, reflecting, representing and interpreting contained in this print, which was produced in the midst of the "cartographical revolution" of the sixteenth-century. Beginning with the premise that maps both create narratives and influence the shape and interpretation of texts, the participants considered how maps as historical objects offer narratives about how we imagine and organize ourselves in psychological, spiritual, social and political terms. But to get to this perspective, we had to interrogate our assumptions about what maps actually do. Are maps simply tools to help get from here to there, static forms of the ubiquitous GPS navigators we all use today? Are maps visual representations of places—or are they schematic and complex reflections on what we understand space and place to be? What sorts of objects count as maps: is a mood meter a map? Is an online data visualization a map? When are tattoos, tablets, sculptures and religious diagrams also best understood as maps? Taking our cue from J. L. Austin's classic account of speech acts in How to do Things with Words, which argues that words can make things happen in the world, we asked how individuals, states, and cultures have "done things with maps," and how, as teachers, we might "do things with maps" in the classroom.
Maps have become charged images in our ever-more visual world, codifying ideas and expectations about space, place, orientation and itinerary. "What is a map?" asks the map scholar and theorist Christian Jacob—and after famously spending 99 pages attempting a definition, he observes: "The map is a device that presents a new dimension, another degree of reality, within the field of vision…[it is] a widening of the visible field, of what can be thought and what can be uttered. It is also a space of anticipation, of predictability, of omniscience tied to the very fact of the synoptic gaze" (The Sovereign Map, 99). From this perspective, the term "map" usefully applies to a very wide range of objects from all over the world – as this seminar discovered, graphic organizers in classrooms are maps and so are the changing maps of the COVID pandemic; mappings of the self, like heart maps often used in elementary- and middle-school classrooms, coexist on a continuum with political maps which establish and contest territorial sovereignty. Maps have also existed across cultures in various forms, even though we (too often) assume that maps are a European invention in early modernity.
As the seminar traced the shifting intersections between cartographic technologies, social-political conflict, and literary form, we moved through themes in the history of cartography from the "cartographic revolution" of the sixteenth century to the grand digital-spatial dream of Google Earth. Participants grappled with the challenges of spatial literacy in verbal and visual texts, cartographic technologies and instruments, maps in books and as books (atlases), and textual uses of various mapping practices (spiritual, geographic, conceptual, data-driven). As the rich curriculum units designed by the participants show, we made ample use of online digital materials from the Beinecke Library, the David Rumsey Collection at Stanford, the Newberry Library, the British Library, and John Carter Brown Libraries.
The materials compiled in these units are wide-ranging—moving from mapping identities and the self through various literary texts to studying early twentieth-century genocides across the world and the history of African colonialism. Whatever their specific focus, each unit includes introductions to teaching with maps for various grades levels (seven through twelve), classroom exercises that teachers might use to integrate maps as thinking tools in their classrooms, and a variety of external resources that fellow teachers might draw on as they include maps in their pedagogy. It is worth noting the wide range of subjects in which maps could be incorporated, and though the focus here is largely on language arts and social studies, each unit also has ideas for how teachers in adjacent topic areas might adapt their strategies. The first three units in this volume focus on language arts, while the final two focus on social studies and history; the order moves from middle through high school grades.
William Wagoner, "A Cartography of the Self: Making Meaning of the World through Life Maps" develops strategies in "personal cartography" by shaping a year-long "Atlas of Experience," a portfolio project that gathers together a series of student-generated "life-maps" which visually map student goals, learning, and growth throughout the year. Anchored in a study of Sandra Cisneros's A House on Mango Street, the unit focuses on mapping as an interdisciplinary tool that facilitates critical thinking across literature and social-emotional curricula.
Sean Griffin's "Mapping the Life and Times of Phineas Gage" engages the use of maps for travel and as reflections on travel. It builds on the teaching of John Fleishman's Phineas Gage: A Gruesome, but True Story about Brain Science to draw together writing, literature, history and biology through the use of mapping. Following the journey of Gage through various maps—railway maps, brain maps, timelines, maps about literature—helps students integrate various aspects of a complex narrative, while also giving them tools for their own travel writing projects.
Aron Meyer's "Distance, Location, and Movement in Sing, Unburied, Sing" shows how mapping as visualization becomes a generative tool for teaching literary analysis. Tackling the challenge of teaching Jesmyn Ward's complex narrative to twelfth-graders, this unit suggests how rendering abstract concepts and multifaceted relationships in the novel as maps can enable students to become more confident and sophisticated readers, particularly with regard to topics such as race, trauma, identity and social stratification.
Robert Schwartz's unit, "A Modern Scramble: Envisioning Colonialism in Africa using Maps and Literary Critique" aims to use maps to combine literary and historical topics in a unit that focuses on the European colonization of Africa in the late nineteenth century. Beginning with the division of the African continent among colonizing nations by drawing political boundaries on a map at the Treaty of Berlin, students are introduced to the history and legacy of colonization through a series of historical maps. They then turn to excerpts from Joseph Conrad's classic novella Heart of Darkness, itself inspired by maps, and to Chinua Achebe's searing critique of the work's racism.
Mark Osenko shows how maps—both existing historical ones and analytical/exploratory cartographies generated by students—can illuminate a difficult subject: "Mapping Genocides of the Early Twentieth Century." Deploying a variety of mapping techniques—territorial, resource and census mapping, as well as mind and emotional mapping—this unit develops strategies to help students learn about and critically reflect on global histories of genocide before the Holocaust.
Synopses of the Curriculum Units
Introduction by Peter Raymond, Professor of Ecosystem Ecology
Climate change is one of the most pressing problems facing society. Educating the public is an important part of the solution to climate change as it encourages people to change their attitude and behavior. There are two major global processes that are critical to understanding the science of planetary warming. The first is the energy, or heat budget of the atmosphere, while the second is the controls on greenhouse gas concentrations in the atmosphere. This seminar for the Yale-New Haven Teachers Institute focused on the dynamics of these two global phenomena in order to provide teachers with an understanding of the science behind climate change to bring to their classrooms.
The individual units in this volume addressed a range of climate change topics. Two units focused on how carbon cycles around the Earth, while another focused on the energy cycle. A second pair of units covered how the changing climate will impact ecosystems. One unit looked at "the other CO2 problem", or ocean acidification. One unit took a closer look at the greenhouse gases and how they impact planetary warming. One Fellow used climate change as a way to reinforce math concepts in the classroom, while a final unit discussed potential health impacts of a changing climate.
The units covered a broad range of topics but all aimed to increase climate change literacy in our youth. Collectively we hope this knowledge will help move the earth to a more sustainable climate in the future.
Synopses of the Curriculum Units